This has been a week to remember. Or rather forget. Can't do both, can I? Anyway, one exam down and I am already so tired that even 12 hours of sleep a night can't seem to help. Thank god for those little things that bring a smile, or else I think my world would not turn so easily.

Because I have been neglecting the blog, here is a recap of what went up, down and all around this week.

*

Dana came over for coffee. She was enjoying her freedom after having her Anatomy exam the day before.
*
Tuesday:
More anatomy and my favorite kind of desert,
baklava
. In case you haven't noticed by now, I am a complete stress eater. And exams = stress, so this has been a week with a lot of baklava and popcorn and icecream.
*
Wednesday:
Exam day, 3 hours of sleep, panic attacks, chain smoking, chocolate cookies, then finally free. Fell asleep (finally!!) after watching
Yes Man
(which I enjoyed a lot) and as many episodes of
The Mentalist
as could squeeze in.
*
Thursday:
Woke up (at 11am. Damn, it feels good to say that!) to this: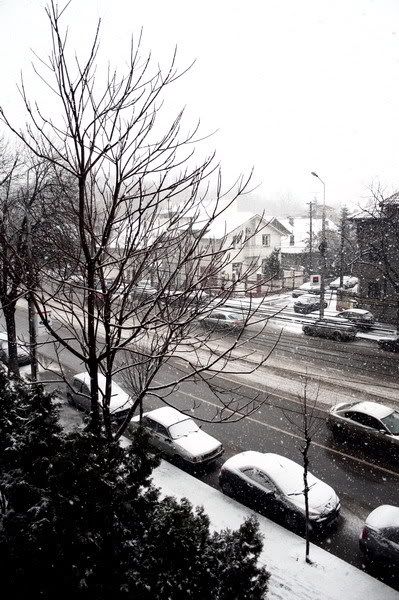 ...and the darkest dark circles:
Mada invited me to coffee and I bolted out that door as fast as I could, leaving a trail of smoke behind me that would make the Road Runner proud!
*
Friday:
Waking up late, studying a little (another one of those exams is arriving this Sunday), watching repeats of the Daily Show with Jon Stewart, and then coffee with Roxana. We finally managed to find a day where our schedules align and it was lovely :)
She is freaking adorable, yes?
Walking home, clearing my head, perfect.
*
Tomorrow, another exam that is killing my brains. I am lacking the will to study and even the mental capacity to do so after what has already been a one way ride to hell on a train made of books and dead neurons. Thank god I can take it in the summer again in case of failure or I would be, pardon my language, screwed. After tomorrow, I can finally relax for a few days... before I gotta start working on the next exam. Hmm, I am suddenly sensing a pattern in my life.

*
Song of the Day:
Madeleine Peyroux - Dance Me To The End Of Love