The days that you have to read pages upon pages of histology are the days when saying "There's too much blood in my caffeine system" is utterly true.
*
I usually do exaggerate when I say life is being boring and unexciting but not today. Life
really
is getting boring and unexciting... except for the mental breakdown caused by school, of course. Had exams on Friday, Saturday, Monday and next one this Thursday and the only thing I wish to do right now is sleep because I am functioning on coffee, cigarettes and Red Bull.
Hopefully things will slow down a little after Thursday. Fingers and toes crossed!
Until then, here are some pretty things that have kept me online these days:
+ I know what I'm doing when I have a free weekend:
The Greatest SciFi Comedies
.
+ Saw Star Trek for the 3rd time this Saturday. We got excited because we went and saw it at the
Star
plex. Haha, geeks, us? Now I really want this
Cosmic Commander
necklace.
+
This
is why I love Steven Klein. Hot!
+ For all you Sasha Pivovarova loving:
Sasha Fierce
.
+
Braaaaain
.
+ Summer of movies? Yes please!
The Time Traveler's Wife
.
Nine
.
Inglourious Basterds
.
Adam
.
Puplic Enemies
.
How to Be
.
PS: Photos from the photoshoot tomorrow :)
*
Monday:
After a grueling exam and too many post-exam hours spent in a library with nothing but the company of a dusty old
Guyton
, when Roxana and Florina offered Starbucks I more or less bolted out the door in a way that would make Road Runner look like a snail on crack.
You can't tell, but I think I was actually sleeping with my eyes open at this point :))
The girls lookd absolutely gorgeous! Don't I have beautiful friends? Yes, I think I really d.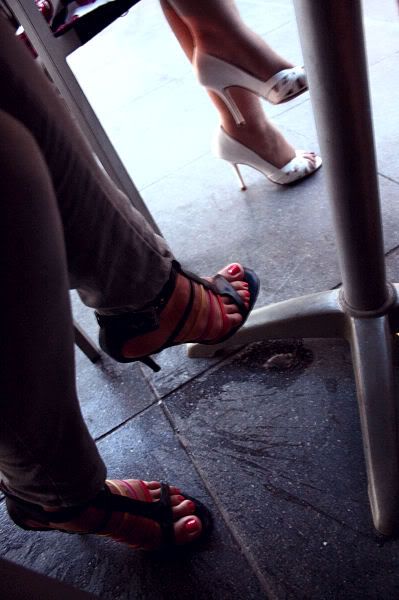 Shoeporn!
Apple and Cinnamon muffins, yum.
dress
: Mango,
belt
: H&M,
bracelet
: Calvin Klein,
pins
: Gourmandise.ro
*
Song of the Day
:
Jace Everett - Bad Things
(In celebration of True Blood, and our favorite Swedish vampire Eric, being back on screen)