The charming and stylish
Dapper Kid
tagged me for the game
Show Me Your Blog Spot.
The rules are as follows:
1. Once you are tagged, post a picture of where you blog.
2. Feel free to tell us a little about your space, or explain certain items in more detail. Or not.
3.
Link back Daddy Likey's original post.
4. Tag five other bloggers to show their blog spots.
5. If you are tagged and do not participate, you will become allergic to cabbage.
As I really love cabbage and because it would be a bore to be allergic to it, I guess I have no other choice then to show you all how I blog, eh? ;D
*

My desk is the place where I spend most of my time at home, curled up in my blue chair. My trusty PC is the link between my dull little life and the charming, exciting and stylish blogosphere.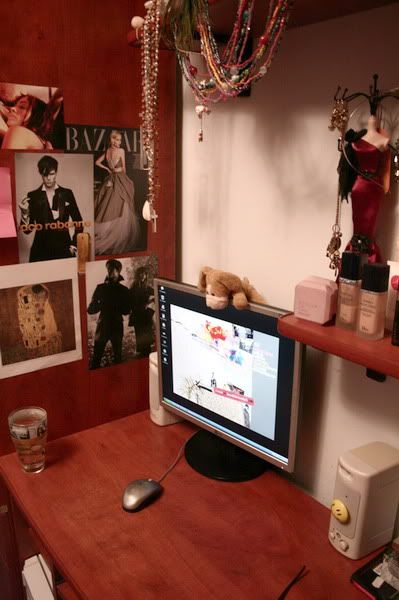 This is the first thing that comes into view when you look at my desk. I am usually there, with either a glass of water (I drink about 3 liters of it a day) or a cup of warm tea, depending on my mood. Or, if sleep is strong, I usually stick to my cans of Diet Coke. We all need some sort of addiction, no?

My photo "wall", which has just been redecorated last weekend.
That
PR advertisement, Natasha Poly, Gustav Klimt, love and my university timetable... what more inspiration can a girl want?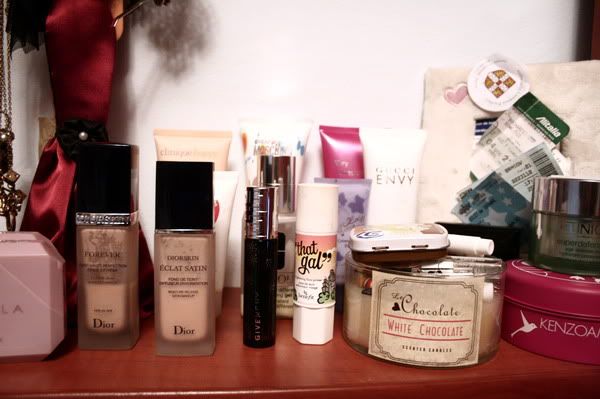 I have this little shelve on the right side of my desk that houses some of my make-up and body lotions. I also have a White Chocolate Candle that is used less for burning and more for storing perfume samples.

I collect tickets. Train tickets, plane tickets, movie/concert/theater tickets. I sometimes write little things on the back of them, words that I associate with that night or that trip. It's maybe my way of holding on to memories, I guess :)
I also collect rosaries. I always, always make sure I buy a rosary from every country I visit. I currently have one from Notre Dame, one from Westminster Abbey, two from Basilica di San Pietro (two different holidays spent in Rome), one from Stephansdom in Vienna and one from
St. Vitus Cathedral in Prague. I plan on collecting
a lot
more!! :))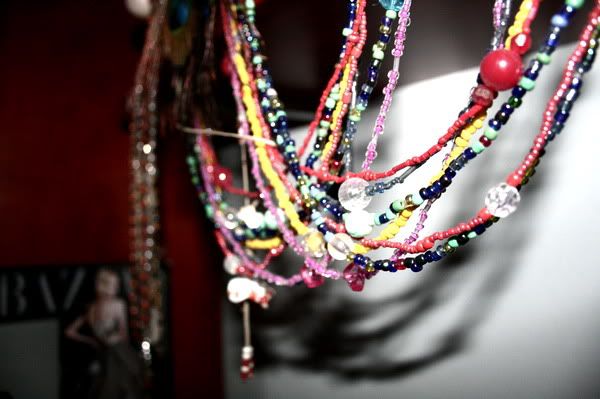 My mom bought me these necklaces when she was in Madeira last summer and I have them hanging from two of the candles on my bookshelf.

A woman figurine that I use to hang some of my jewelery and accessories from. This is where I usually hold my favorite pairs of earrings and headband!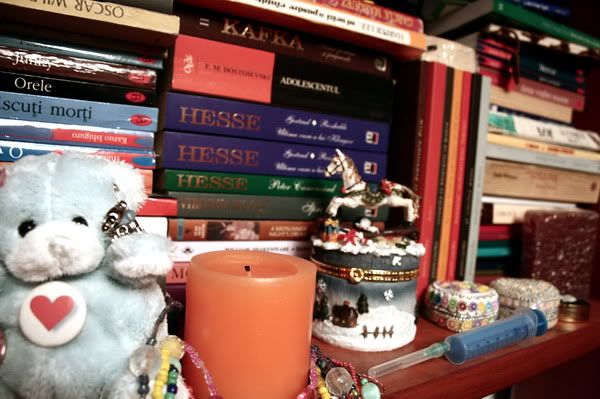 I LOVE books and the thing I wanted in my room when I decorated it a few years back was a big bookshelf and I got my wish :D I also have a huge one in the living room so this is the one where I keep my favorite books mostly. Like I said before, the worst part of being in Med School is that is seriously limits the time I spent reading. Sigh.

Most of the jewelery boxes and toys here are gifts I got. I love to have them on show even though I am so running out of space!

I love sheep, I think they're such cute and silly, fluffy creatures! I also keep every card I get and I am planning on making a collage with them soon! (And oh god, please ignore the Dan Brown books, it was a phase :))))

Hope you enjoyed this little peek into my life :*