It feels so weird to wake up with nothing to do but lie in bed, watch all the shows I've been missing on (hello
Kings
and
Dexter
, I missed your pretty pretty faces!) and eating cool watermelon while the entire city is under a heat wave.
My plans for the weekend involve sleeping. How awesome is that? (in my defense, I'm in the day after my exam session. Sleep is like caviar and diamonds right now!)
*

I love curling up in bed and watching movies. Especially at the end of a very long day, when nothing feels better than a good story and beautiful images to help you relax.
Last night I did just that and watched one beautiful movie,
The Young Victoria
. It's the second time I watched it, and loved it just as much as the first time. The movie follows the story of Queen Victoria in the years before she became queen and also the developing relationship between her and her husband, Prince Albert.
It's a soft, slow movie but that's why I loved it. Like a breath of fresh air after too many dark dramas and exploding wham-bam-think-you-ma'am movies! Emily Blunt and Rupert Friend bring to life two loved characters superbly, giving us a glimpse into a beautiful love story that entered history books. I fell in love with their love.
It's a love story that takes place over a historical background. It is also visually beautiful, all soft lights and perfect costumes, and that works perfectly with the romance coming to life between the perfectly decorated palace walls.
All in all, this is my new feel-good movie. Beautiful, even if slightly too sweet sometimes, but don't we all need some of that in our lives from time to time? :)
*
"

The Young Victoria

"
Emily Blunt, Rupert Friend, Paul Bettany, Mark Strong.
(click all for bigger)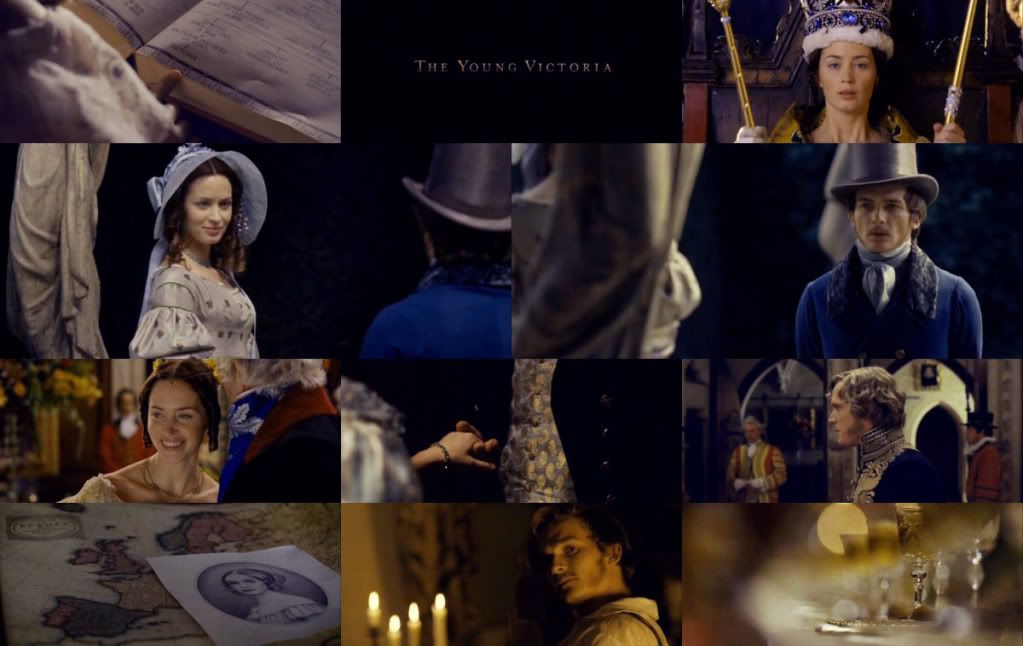 Prince Albert:

Then you had better master the rules of the game until you play it better than they can.


Victoria:

You don't recommend I find a husband to play it for me?
Prince Albert: I should find one to play it with you, not for you.
You may dream of independence, but you won't get it. From now on, everyone will push and pull you for their own advantage, Melbourne more than the rest. Just remember, you are the queen.
The dancing scene between Victoria and Albert was my favorite part. So beautiful.
Victoria:

I'm sure you're aware why I wished you to come here. Because it would make me happier than anything, too happy really, if you would agree to what I wish.


Prince Albert:

And stay with you?


Victoria:

And stay with me.


Prince Albert:

And marry you?


Victoria:

And marry me!



Prince Albert:

I had two very good reasons. First, I am replaceable and you are not.


Victoria:

You are not replaceable to me!
source:

all photos capped and photoshopped by me.
*
And here is the lovely trailer for your enjoyment:
The Young Victoria
.
PS: Post dedicated to Andy. Thank you for bringing this movie to my attention, you rock! (But you knew that already didn't you? ;))
*
Song of the Day:
The Postal Service - Suddenly Everything Has Changed