My life in the next few weeks will be the equivalent of getting bashed over the head by a lemon peel wrapped around a brick. I have so much to study that I will probably end up mumbling gibberish about heart muscles and liver ligaments by the end of it all. Sigh, the things I do for my very own McDreamy ;))
If any of you are interested to see how a day in my life goes,
go here
:) I think I've had that photo journal from some time now but never posted about it here. Better late than never when it comes self advertising, right?
Uni has taken over most of my free time this week, so thank god for movies! I found out they are the best thing when you come back home after a long day. My movie list this week included:
Flashbacks of a Fool
(perfect if you feel like watching a soft slow movie)
The Golden Compass
(I am a sucker for polar bears)
Being John Malkovich
(just as weird as I expected)
Babylon A.D.
(what can I say, I am a Vin Diesel fangirl. Actually, it was a good action movie and better than all the reviews I read)
The Big Lebowski
(great, funny movie!)
Why yes, I am a movie fiend, why do you ask?
I've also seen
The Duchess
this week. I thought it was a very beautiful, albeit sad movie and I recommend it if you are a Keira Knightley fangirl (like me), if you enjoy beautifully filmed period pieces, if you love very pretty clothes and very pretty boys (and that is my very superficial side making an appearance here). It is definitely one of my favorites from this year.
*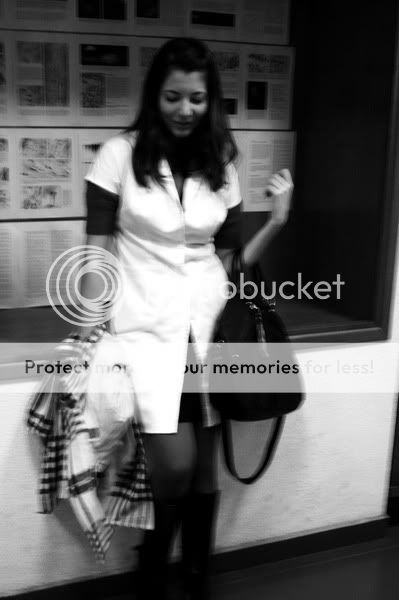 My happy face after the too-early Histology lab :P
Tickle fight!!
I loose, Irina wins :))
The girls, waiting for our courses to start.
Me, Irina, Irina B, Andy and Maria doing our happy dance after we survived a 12-hour day.
The M&M's that were never eaten.
The most important buy of my week: say hello to Brendon, my new iPod Touch. He has been keeping me sane this week with his songs and his movies (I have learned that
Kiss Kiss Bang Bang
is the best movie to watch during long, boring courses!)
dress
: Kotton,
sweater
: Mango,
belt
: Zara Kids,
tights
: Accessories,
boots
: Musette,
bag
: Nine West
*
Song of the Day:
Kings of Leon - Use Somebody